As society nowadays relies more and more on electronic devices, portable power stations have grown in significance. A trustworthy portable power station can save your life whether you're camping, traveling, or going through a power outage. Our business recognizes how crucial it is to keep fueled up and connected while on the go, which is why we put our goods through three rounds of demanding aging tests before they leave the factory.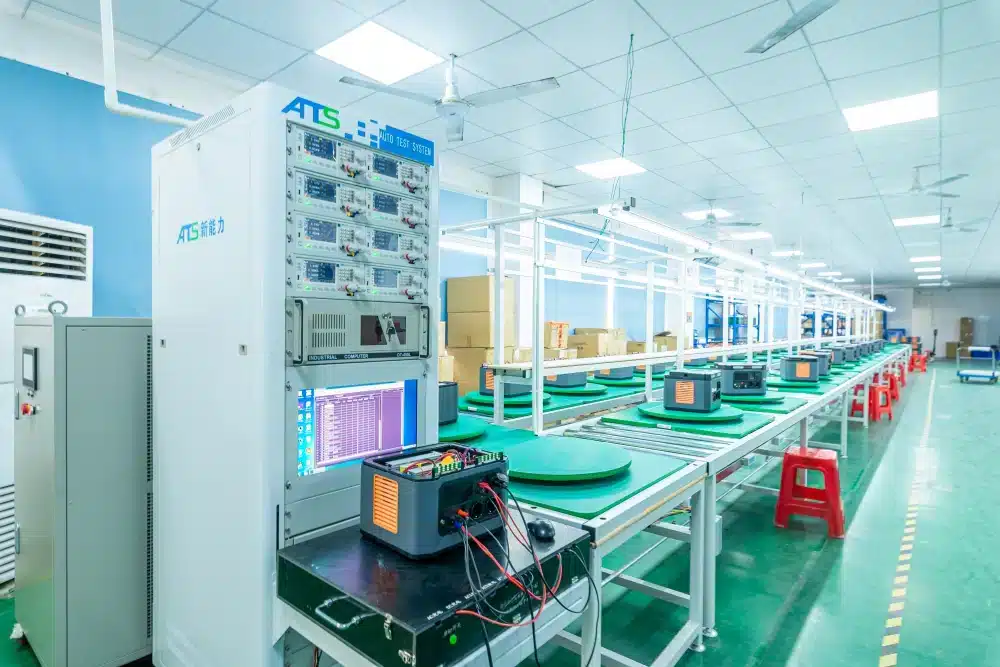 Dependable Portable Power Stations Are Required
There are many different situations and uses for portable power stations. Others rely on them for emergency power during blackouts or natural disasters, while some utilize them for leisure activities like boating or camping. Whatever their intended application, it is obvious that portable power stations need to be dependable.
Unreliable portable power plants might have detrimental effects. It may imply being trapped without means of contact or direction-finding in an outdoor or camping environment. In an emergency, it can entail being unable to keep track of rapidly changing conditions or power essential medical equipment. It might entail being without a necessary source of power in any circumstance.
Our Three Rounds of Extensive Ageing Examinations
We run three rounds of aging tests on our portable power units to make sure they are reliable to the highest standards. Half-finished items are tested in the first round, while fully completed units are tested in the second and third rounds.
We subject the products to harsh temperature and humidity levels during the initial testing to replicate the aging process. After that, we test the products to make sure they continue to perform up to our high standards.
In the second and third phases of testing, fully completed components are put through even more rigorous circumstances, such as high temperatures and demanding loads. We recreate real-world situations using cutting-edge equipment to make sure our goods can resist the harshest settings.
Testing Results
Our thorough testing procedures have produced outstanding outcomes. We are pleased to state that the performance and reliability of our products surpass or exceed those set by the industry. Our testing results demonstrate that our portable power stations are suitable for use in any environment since they can resist high temperatures, demanding loads, and extended use.
Our testing procedures not only satisfy industry requirements, but they also have a number of advantages. They enable us to spot any potential problems early in the production process, minimizing the possibility of faults and guaranteeing that every product we ship out is of the greatest caliber.
Conclusion
For anyone who wants to be fueled up and connected while on the go, dependable portable power stations are essential. In order to make sure that our products meet the highest standards, we at our company have created rigorous testing procedures because we recognize how important reliability is. We are able to spot any potential problems early in the production process thanks to our three rounds of aging testing, and we can be certain that every product we ship out is dependable and prepared to operate.
Having a trustworthy source of electricity is crucial now more than ever in a culture where people rely largely on their electronics. We are pleased to supply portable power units that can deliver the electricity you require, when and where you require it.
FAQs
What types of devices can be powered by portable power stations?
Portable power stations can be used to power a wide range of electronic devices, including smartphones, laptops, tablets, cameras, and even small appliances like mini fridges or CPAP machines.
How long do portable power stations typically last?
The lifespan of a portable power station can vary depending on factors like usage patterns and maintenance. However, a well-maintained portable power station can last for several years.
Can portable power stations be charged with solar panels?
Yes, many portable power stations can be charged using solar panels, making them an excellent choice for outdoor activities like camping or hiking.
Can portable power stations be used indoors?
Yes, portable power stations can be used indoors as well as outdoors, making them a versatile source of power.
How do I know what size portable power station I need?
The size of the portable power station you need will depend on factors like the devices you plan to power and how long you will need to use them. Our customer service team can help you choose the best option for your needs.